Diana Taylor-Burge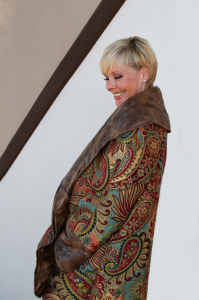 Diana Taylor-Burge is a fashion and modeling consultant, and a talent scout, for Tiger Tale Companies. She is internationally known as a cover girl and runway model for leading fashion magazines and designers around the world. She is a television spokesperson, both in Europe and the United States.  In fact, you may have seen her work with Alex Trebek on "Classic Concentration".
Beginning in New York City as a teen, Diana worked as a model while she studied acting. She is a licensed cosmetologist and professional make-up artist, greatly enhancing her professional skills. For twelve years, Diana made Europe her home, and she became fluent in multiple languages, spoken in television commercials. She has also worked the runway and written magazine editorials for top international designers. Some of her favorites include Armani, Fendi, Gianfranco Ferre, Karl Lagerfeld, and Versace.
An actress with an eye for talent, Diana currently spends her time scouting and promoting films and stage productions, both in the United States and abroad. Her enthusiasm for the "happenings" at Tiger Tale knows no boundaries!
[mp3-jplayer tracks="No Matter How Many Bridges@http://tigertale.com/wp-content/uploads/2013/03/No-Matter-How-Many-Bridges.mp3″ width="450px" height="120px" images="http://tigertale.com/wp-content/uploads/2013/03/eye-of-tiger-album.jpg" style="dark bars100 btransbars" pos="rel-L" dload="n" autoplay="y" captions="Lyrics by Cynthia L.Clack and Music by Randall Shafer" list="n"]